"The art of teaching is to always remember that a teacher must be able to be flexible, become the student. Allowing the student to become the teacher."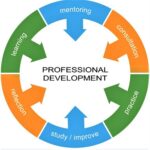 Teachers inspire; that's just one of the qualities that come along with the title. Modern educators have the ability to empower students to be critical thinkers, innovative, creative, adaptable, passionate, and flexible. They empower them to solve problems, self-direct, self-reflect, and lead. They give them the tools to succeed, not only in school but in life.
Navigating through the Supervisory Platform
The 6 A's. 
*Authenticity    *Academic Rigor    *Applied Learning  *Active Exploration    *Adult Relationship     * Assessment
                            P.D. programs for professionals  
Being a great supervisor requires a commitment to reinvent oneself regularly. But how? Answer: By trying new things and other possibilities. Always finding new ways to allow you to always improve yourself to be more effective, which allows your staff to be more effective in their respectful fields. This not only uses the fundamental strategy, but also uses some psychological theories to help with those challenges in management. This allows the workshops to be fun, opens your mind to new ideas, reinforce what you have now, strengthen your role, and much more. 
From a professional rationale, to deliver the highest quality of professional service, the content of PD must be directed towards enhancing professional competencies (both skills and knowledge) including keeping up to date with advances in research evidence and theoretical developments within various domains of education (team building and leadership), communication, ethics, teaching, research and administration from the perspective of the individual practitioner.
The professional staff development goal is to develop a framework that will provide effective staff training for improved student learning through engaged learning and the integration of the arts in all curricular areas. TWW Inc. helps teachers help students succeed to experience the bright futures they all deserve and feel successful with their students every day. Development is a process involving evaluation, identification of needs, and planned activities for individuals. TWW staff development provides teachers tools to give them different teaching strategies to educate the student which compliments their curriculum. The aim is to improve elements of professional knowledge and skills that affect the students work habits which will be shown through their work. One focus, instructional strategies, which are critical to improving teaching and learning in standards-based classrooms.
TWW Inc.'s 15 Principles.
Adaptability

Confidence

Communication

Team Player

Continuous Learner

Imaginative

Leadership

Organization

Innovative

Commitment

Ability to Manage Online Reputation

Ability to Engage

Understanding of Technology

Know When to Unplug

Ability to Empower
Different Areas we cover.
You can select any combinations for your PD workshop for you and/or your staff
Leadership

·      Skills of Leadership

·      Emotional Habits That Hold You Back as a Leader
Also use Stress & Anxiety
·      Phrases Leaders with High Moral Character Always Use
·      Why everything we know about Motivation is wrong
·      Humility & Leadership
·      Ethics, Morals & Values in Leadership
·      Teamwork
·      Goal Setting
·      Empowerment
·      Learning and understanding skills
·      Lead to Follow and Follow to Lead

Communication & Diversity

 Communication

·      Assessing Communication Effectively
·      Bad Public Speaking Habits That Immediately Destroy Your Likability
·      Rumors
·      Techniques in Listening, Speaking, Understanding, Writing, Noise
.      The right and wrong ways in communicating with other cultures

Handling Diversity in the Workplace
·      Working with different cultures, religions, political, ethnics backgrounds,  and sexual orientation. Understanding how to work with a diverse workforce. Being firm and fair. 

HR Topics

·      Disgruntle employee

.       Mental Health challenges

·      Harassment & Discrimination
·      Appropriate Dress Attire
·      Disciplinary actions (Progressive Discipline)

OTHER AREAS WE COVER:
*Stress Management  *Keys to Learning   *Ice Breakers  *To Thine Own Self Be True  *Use the Arts as a Major Teaching Tool * Asses the Assessment
1.
Minimum 4 hours or a full day
2. People will work separately and together on projects given.
3. If there is a specific category you wish to cover, but do not see it, let us know.
4. Assignments (take home) are always given; there is a follow up P.D. (minimum 4 hours)
5.  P.D. can include an art discipline/s (Visual – Dance – Theater – Music)
6. Budgets for all your needs
New Programs..
Power & Empowerment of Leadership
Leadership isn't by title only. It takes practice and experience as well as personal exploration and development. 
Subjects: Different Leadership styles (what type are you vs. what type your colleagues see you), Ethics, Skills, Responsibilities, Challenges, Success & Failures
Positive styles with the understanding of diversity
Our emotional health is affected by the social, occupational, environmental and psychological elements that impact our personal and professional lives. This workshop explores recognizing the different symptoms of stress and how to reduce it.
Creative Arts Workshop –  An Introduction to Metamorphosis:
 What Stage of Change Are You In? To explore a change you would like to have in your life. Complete with a guided meditation, art exploration, and closing discussion about where you are now and where you'd like to be. Facing different aspect, and challenges in change. Every stage is worth celebrating!
Teaching Arts in Curriculum
It's the secret weapon! Explore the myriad of ways to use the arts to help students become engaged in the learning process, understand curriculum, and develop critical thinking and higher learning.
Navigating through the Business Arena

Confronting Structural Racism Initiative
Understanding the different dynamics when it comes to dealing with Race/Cultures, Gender, and Power in the work arena.
Financial awareness / empowerment – do and don'ts on building your financial future and your family, and how to be strategic – planning your own future (be your own manager). Complete with closing discussion about where you are now and where you'd like to be.